Rehoming Your Pet
Are you looking for a new home for your pet? Nevada SPCA is here to help. You can look for a new home for your pet online. Set up your pet's profile here https://rehome.adoptapet.com.
Once complete, your pet's profile will be posted on Adopt-a-Pet.com and be seen by millions of visitors each month! If you explore the website you will find many helpful tips for successfully placing your pet.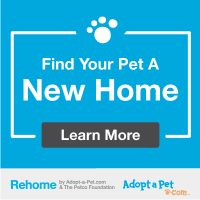 Pets Accepted at Nevada SPCA by Appointment Only
If you need to find a home for your pet or need help with an animal you found, please e-mail us at info@nevadaspca.org.​ There is a $25 fee for an owner to surrender your pet. We will be in contact with you shortly. We try to respond quickly, especially to emergencies, but please keep in mind that it can take us up to 24 hours to reply. Nevada SPCA is always operating at full capacity, so we only accept new pets in by appointment.
More Help in Las Vegas
The Animal Foundation offers help for pet owners through their KEPPT program – you can find more information about it here including information on surrendering a pet:
https://animalfoundation.com/get-pet-help/surrender-or-rehome-pet
If you found a pet, you can find information on registering a found pet here:
https://animalfoundation.com/get-pet-help/lost-found-pets
Before Deciding To Surrender An Animal
Your pet is depending on you to do your best for them. Please review this list below and take whatever steps you can to resolve whatever issue is now causing you to consider rehoming your pet:
Has your pet's behavior recently changed? Consult with your veterinarian to eliminate any possible health issues. Many common problems, like not using the litter box, can be the result of a treatable ailment.
Does your pet have a behavior problem? Consult with a certified animal behaviorist or dog trainer. You can also do some online research for advice.
Would temporary boarding alleviate your problem? There are many good boarding facilities for dogs and cats.
If You Are Moving, It Is Now Relatively Easy To Safely Transport Animals To Your New Home. Please Do Not Surrender An Animal Just Because You Think It Is A Hassle To Transport Him Or Her To A New Location.
Moving? Please do all you can to take your pet with you! Their life could depend upon it.
If you need a pet friendly apartment, there are links to guides on this site that can help you.
Your pet needs you, please rise to the challenge! Your pet's life may depend upon it.

Dog Surrender Form


Cat Surrender Form